Swamy on Vajpayee:
http://www.tribuneindia.com/1998/98aug29/head2.htm
Asked if his government had proved true to its election promise of providing an "able leader and stable government", Mr Vajpayee said "we have not completed even six months in office. Even children get six months for their term examinations. Why should the government's performance be judged in such a short time. Election promises were made for a five-year term. Some of them we have been acted upon and on others, we are going to act.
"If a balance sheet is drawn, my government would not be in the red," he remarked.
To a remark that the first six months for a government were important as "a honeymoon period", Mr Vajpayee said the country had seen other governments, including coalition ones. "We have watched their performance during the first six months. What we have done during this short period has been much more popular".
Asked whether he was not worried over the fact that the news of impending "divorce" during the honeymoon period had got greater prominence in the media, he said "that is a different issue altogether and I do not blame the media for that. We get publicity for good work although that may not be displayed as prominently as it should be".
http://janataparty.org/articledetail.asp?rowid=14
In 1977, Jagjivan Ram was confident of becoming the Prime minister because Vajpayee and Nana Goray promised him support. The Jan Sangh MPs were 102 in number, the Socialists were 35, and Jagjivan Ram's Congress for Democracy was 27. That is, of the 318 MPs elected on Janata ticket, a very slender majority were pledged to Jagjivan Ram. Vajpayee's only reason for preferring Jagjivan Ram to Morarji Desai was that Morarji was a strict prohibitionist while
Vajpayee was regular consumer of alcoholic drinks (in secret)
. But when Charan Singh categorically threw his support for Morarji, Vajpayee became apprehensive because there was a small revolt in the Jan Sangh camp, especially amongst those who had suffered during the Emergency. He feared that they would switch sides and vote against party line. Morarji used to jokingly tell me that
Vajpayee "roared like a lion but had a heart of a rabbit"
.
Vajpayee is no Brahmin. He drinks alcohol and publicly claims that he is a bachelor but not a Bramachari.
How can he be called a Brahmin with those 'qualifications'?
"Vajpayee an informer in '42: and Atalji's reply" - The Pioneer
http://www.hvk.org/articles/0897/0105.html
Title: "Vajpayee an informer in '42: and Atalji's reply" Author: Publication: The Pioneer
Date: August 12,13, 1997
Vajpayee was an informer in '42: Swamy
Date: August 12th, 1997
Janata Party president Subramanian Swamy on Monday said BJP leader Atal Bihari Vajpayee should dissociate himself from the golden jubilee celebrations of the country's Independence, 'alleging that Mr Vajpayee had acted as a 'police informer' during the Quit India movement in 1942. In a statement here, Dr Swamy said he was shocked to see Mr Vajpayee in Mumbai on August 9 as guest of honour at the commemoration of the Quit India movement.
He claimed there was documentary proof at the national archives to show that as a police witness, evidence tendered by Mr Vajpayee on August 21, 1942, before a Bateswar (near Agra) magistrate had led to the conviction of seven satyagrahis' to life-imprisonment on a false police FIR that they were engaged in arson and destruction.
"Mr Vajpayee should apologise to the people for this."
Mischievous report
Date: August 13th, 1997
This refers to the news report, 'Vajpayee was an informer in '42: Swamy' (August 12). Similar mischievous reports have appeared in different newspapers over the last two or three days, alleging that had turned
approver before a British court during the "Quit India" movement to secure my release. Needless to say, these allegations are nothing but lies fabricated to malign Me and my party. This campaign of calumny has been raked up at periodic intervals with a view to damaging my personal and my party's reputation. It is hardly surprising that frustrated elements should utilise an important event like the curtain-raiser of the Golden Jubilee of our Independence held at Mumbai on August 9, 1997, to revive this contemptible campaign. According to the copy of the final judgement, I have not been mentioned at all, either as a witness or as an accused-turned-approver.
Atal Bihari Vajpayee
44, Parliament House New Delhi: 100 001
http://palaceoftruth.blogspot.com/2009/04/swamy-on-vajpayee.html
What does bother me about him is his tendency to change sides. I wonder if it is because of his love for truth or something else! He once was completely against Jayalilitha (and was nearly killed for that) and then he became her personal confidant. He appears to be a Hindutva supporter but is against the BJP. He is a very unpredictable person which must be the reason that he is called the "Captain without a ship".
Here is an excerpt from Dr. Swamy's article on his association with Moraji Desai in which he questions the character of ex-prime minister A.B. Vajpayee. I wonder what truth there is to this. One thing is for certain, Dr. Swamy has no qualms in questioning someones character.
http://janataparty.org/articledetail.asp?rowid=10
"From that day on wards, even if Morarji did nothing much for me politically, he was always on my side helping me where he could and I remained his friend till his last breath. When his Cabinet was formed, it was widely thought that I would be made a Cabinet Minister for my role in the Emergency, but
Atal Behari Vajpayee, who had played a disgraceful role of writing an apology letter to Mrs.Gandhi during the Emergency
- to come out on parole out of jail, - controlled 91 Jan Sangh MPs. Vajpayee was given to tremendous jealousy, and it is the root cause of the mess BJP is in today. He found my "Emergency Hero" status unbearable especially since he wanted to hide his own surrender shame. He therefore prevailed upon Morarji to offer me only a Minister of State with independent charge. Morarji also thought that at the age of 37, a Cabinet Ministership was too early."
"Morarji helped me to break the ice with China. Vajpayee as Foreign Minister blocked my visit for one year, but in 1978, Morarji saw that I went first to China. He accepted my view about China, and rejected Vajpayee's, who was keen to keep the Soviet Union pleased. Even on Israel, Morarji accepted my view and invited Moshe Dayan to visit India." - It must be mentioned that Vajpayee is credited with opening relations with China.
"Because of the factionalism in the Janata Party, during his tenure as PM, he could not make me a Cabinet Minister. Delhi was always abuzz with the rumour that he was about to induct me as Foreign Minister because
he was fed up with Vajpayee's drinking habits whenever he went abroad or his indiscretion with women
. But the 91 MPs of the Jan Sangh group was Vajpayee's strength, so Morarji kept postponing the date. Then there was the Raj Narain nuisance. However in June 1979, Raj Narain was expelled from the Janatha Party, and everything was under control-- or so it seemed. It was then I was confidently told by insiders that Morarji would bring me into the Cabinet in the September 1979 re-shuffle. That re-shuffle never came because Morarji quit office in July 1979. But the greatness of Morarji was exhibited in those trying moments when he was betrayed by colleague after colleague, each trying to become Prime Minister. Some got a bad name for it such as Charan Singh, but the real culprits were Vajpayee and Ramakrishna Hegde who pushed Morarji into a confrontation with Charan Singh, and then let Morarji down.
Provoked by what he mistakenly took as Morarji induced insults, Charan Singh broke the party, and the Janatha Party lost majority. Then Vajpayee and Hegde produced a list of 279 MPs of which 23 MPs signatures were forged. The President Mr.Sanjiva Reddy was alerted to it by the IB, and he made it public. Morarji gallantly took the blame and quit public life. It should have been Vajpayee and Hegde who should have quit, but they left Morarji holding the bag and owning responsibility! Such was their character."
http://www.mid-day.com/news/2005/sep/119551.htm
>>
There are insinuations by Subramanian Swamy and Rajesh Khanna that Vajpayee's foster-daughter is actually his own biological daughter.
Picture: Atal Vajpayee with landlady (mother of Namita Kaul and adopted daughter of Vajpayee) Rajkumari Kaul
And Subramanian Swamy said to Vajpayee, "How can a Bachelor demand a Honeymoon?"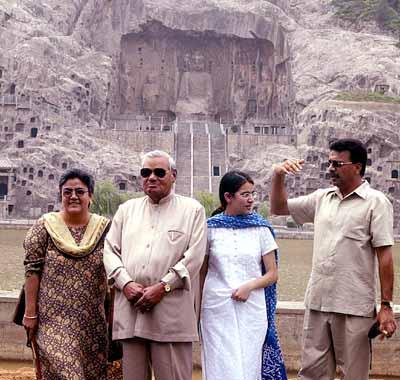 Atal Vajpayee and his Foster-family
"Aulad ke Jane ka dukh to unke mata pita hi samajte hain. Ab Vajpayeeji ko kya maaloom aulad ke jane ka dukh," (Only parents can feel the sorrow of losing their children. How can Vajpayee feel such Pain)."
Ghulam Nabi Azad said: "A time may come when we may have to ask the Prime Minister how, without getting married, he has sons-in-law and daughters-in-law? Whose son-in-law? Who is m arried to whom?"
Rajesh Khanna told a rally in Gujarat that Vajpayee does not have children, but he has a son-in-law.
But no one can beat the former prime minister in the Love Aaj Kal blockbuster sweepstakes. An eternal bachelor, Atal Bihari Vajpayee has adopted and nurtured a family for the last 50 years and more.
His ever-lasting dedication to the Kaul family has given their bond a sanctity any spouse will kill for. Their story is enthralling --

Vajpayee did not marry his college love-interest Rajkumari, but moved into her marital home, to live with her husband, a teacher at Delhi University, and their two daughters, to become the third head member of the family

. Their unconventional relationship was scrutinised because of needless rumour-mongering and ceaseless intrusion (Mrs Kaul was branded the mistress and her second daughter Namita, their love child) but they were largely left alone in the media.
"Both Atalji and I have never felt the need to offer apologetic explanations to my husband once the dirty rumours began," Rajkumari Kaul had said in a magazine interview. "My husband's and my relationship with him is far too strong for that." Even the sanctimonious RSS refrained from ordering its pracharak to move out.